News
October 1st, 2020:
Personnel expansion and reinforcement at CTS Nederland B.V.
Freek Stouten joined our company on 1 October 2020 in the position of Technical Sales Manager climate test equipment.
With his, more than 30 years of experience in this field, we are of course very pleased that he has joined our team.
November 16th, 2020:
Installation of 2 pieces new 1000 liter Stress Screening Climate cabinets at a supplier to the automotive industry.
Temperature range: from -70 ° C to + 180 ° C
Cooling and heating speed: 10K / min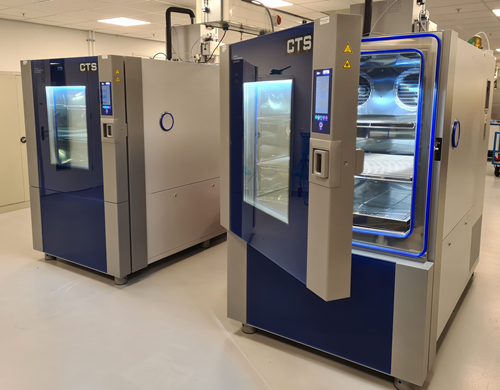 July 10th, 2021:
Large CTS Li-Ion Climate Test Chamber delivered.

Today CTS Nederland B.V. has delivered a large climate test facility for testing Lithium-Ion Batteries to an independent test laboratory in the Netherlands for electrical systems and components.
With a test capacity of almost 1500 liter it is one of the biggest in the standard CTS climate chamber program.
The chamber can perform temperatures from -70°C up to +180°C
and humidity's from 10% to 98%RH.
With extended safety precautions EUCAR Hazard Levels from 0 to 7 can be achieved.