Pharma TP
Pharma Temperature Chambers, Series TP
For long-term shelf life and ICH stability testing with highest precision
of food, human and animal drugs, vaccines etc.



* Standard version series TP
Capacity in liters: 600/1200

Temperature range:
+10 °C

/

+50 °C

- 20 °C

/

+50 °C

Design:
Pt100 temperature sensor
Casing stainless steel 1.4301 inside and outside 
LED test space lighting
Lockable door
3/6 stainless steel shelves (max. 25pcs./50pcs.)
Lead-through ø 50 mm
microprocessor control and monitoring system
capacitive Multi-Touch-Display
adjustable software temperature limits
Automatic defrost function (for -20 °C version)
potential free contact for fault signal
interface RS 232, USB connection
Your benefits:
low energy consumption
low noise level
easy, user friendly operation
use of environmental friendly materials and coolants
Own CTS-controller optimized for CTS-systems
internal and external stainless steel material for easy cleaning
 Options:
Movable design 
Heated glass door
additional lead-trough's
additional shelves
additional Pt 100 for temperature measurement on test samples,
  switchable to control function
independent, adjustable temperature limiter for test samples
CID-software for programming and documentation
Ethernet connection (in combination with CID software)
All data are average values ​​obtained at a temperature of +25 °C, without test material, without thermal load and without options. We reserve the right to make changes due to technical development.
Other dimensions and options on request.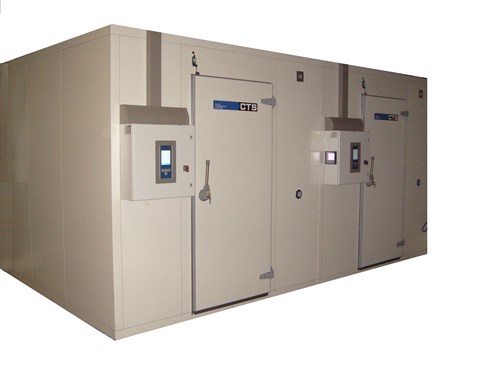 Walk-in stability test Chambers